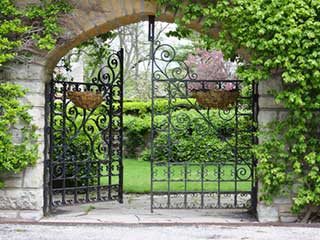 Gate Repair Little Elm is a provider of complete repair solutions for residential gates. We focus on almost everything related to them: repairing of hinges and openers, fixing of alignment and track issues, welding services, installation of new doors and parts, replacement of worn-out and minor parts, and maintenance services. Some of our well-known features are:
Repairing of all major and minor parts
Installation of everything from nuts and bolts to new gates
Custom-made designs for doors
Industry-standard safety tests
As a company with years of experience in the field, we understand our customers' requirements. This has helped us in continuously revising our services so that it aids in our quest to give 100% support.
Following are some of the popular reasons why we have the majority of people in Little Elm as our customers:
All Brands, Makes, and Models
We have associations with the most popular brands – both local and international – which help us in offering compatible services to our patrons. There is no space for worry here as we can fix all types of gates and their parts, regardless of their make or model. Our technicians have a huge repository of matching models so that you don't have to panic even if your property is of a foreign brand.
Elite, Doorking, Eagle, Liftmaster, and DKS are some of the brands with whom we have formed alliances over the years.
Best-in-Class Integrated Services
Every once in a while, there comes a time when you need both a welder and an electrician to fix multiple parts of your gate. While this sounds easy, finding a provider who offers both services can be a struggle. But, worry not, as help is here. We provide integrated services to our customers so that you don't have to call multiple vendors for minor problems.
So, next time you have multiple issues with your property, contact the experts!
Safety Tests for Your Safety
A residential gate is heavy in size and involves both mechanical and electrical parts in its operation. While safety precautions are taken during the initial installation, over a period of time, some parts can wear out and cause malfunction. If they are not maintained properly, it can become dangerous for the users. In order to avoid such unforeseen occurrences, it is recommended that safety checks be carried out periodically. This can also improve the lifespan of your property and keep your loved ones safe.
For expert solutions to all your problems, contact Gate Repair Little Elm. Our team of skilled technicians strive to make your life tension-free.
You can get in touch with us by visiting our website or giving us a call.