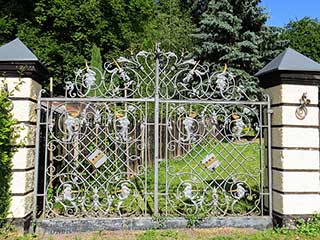 Dependable Residential Gate Repair Services
When your automatic gate malfunctions, we will be there to fix it. Our services cover swing and sliding units and openers of all designs and brands. We will run an inspection and tests to find the cause of the problem and deal with it straight away. If you have a broken chain, count on us to replace it quickly. If the hinge welding is damaged, we will repair it attentively to make sure your gate is even, quiet and works smoothly once again. The motor makes strange noises? Rely on us to fix it fast. In case you have faulty safety sensors or a missing remote control, you can expect fast replacement. In addition to fixing residential gate openers, we restore the condition of damaged wood and steel panels, iron frames and bars, and posts.
Installing Residential Security Gates and Openers
If you plan to restrict the access to your property with a driveway gate or another type of security gate, our company is here to make your plans a reality. Our installation service involves consultation for selecting the right unit and the most suitable opener in advance. We know that homeowners find it quite challenging to pick between the many different electric operator types and models, and that is why our specialists are available to provide information and advice on automatic residential gate openers. Count on us to install your new gate and opener in little time. With accurately adjusted settings and smoothly working hardware and electronic components, you will enjoy top performance and the highest level of security and safety.
Scheduled Professional Maintenance
Whether you've had your automatic gate for decades or have a recently installed unit, you must take good care of it. You can readily hand the job over to us and we will provide full professional maintenance. Inspection and testing enable us to spot any problems and to eliminate them with appropriate adjustment, repair or replacement. If you have a worn wheel, for instance, we will install a new one for you. With proper lubrication, all the hardware parts will function impeccably. You can expect to receive the best residential gate opener maintenance by hiring our services.
Get in touch with us now regarding your gate and/or opener. We, at Gate Repair Little Elm, will provide the expert service you need without delay.
We also offer the following:

Solid Sliding Gates

Doorking Gate Intercoms

Commercial Gate Service

Gate Motor Replacement