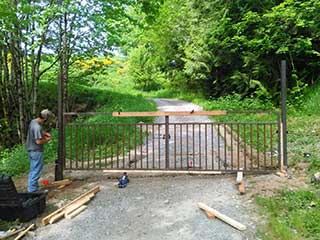 If your gate doesn't open or close properly, it's time to have it fixed. Gate Repair Little Elm is the company to count on when you're in need of professional services! Our comprehensive opener repair, hinge wielding, and alignment services are tailored to the needs of both residential and commercial customers alike. Fast, effective, and affordable - our services won't disappoint you. Learn more about them below.
Wood, Wrought Iron, and Iron Gate Repair
Regardless of the materials from which it is made, a gate includes components and systems that can wear out in time. This means openers, hinges, and intercom systems. When one or more of these is giving you a hard time, repairing or replacing them is the only solution. Because repairing a gate is always cheaper than replacing it, it's important to treat the problem early. We have gathered a team of experts who can fix both small and serious problems for you.
Professional Motor Replacement & Services
Residential driveway gates are just one example of a motorized gate that may need repair in time. The difference between a professional repair and a quick fix can be significant. A gate motor that stops working may be kick-started back to life, but if it doesn't function optimally, it can cause your problems when you least expect it. Gate balancing and testing are always important as these increase the value of your investment by eliminating further problems.
Security Gate Services
Whether it's a broken hinge that needs welding or a faulty intercom system, your security gate can be repaired best by a specialized gate repair service. Our team of experienced technicians can repair security gates quickly and effectively using the latest equipment in the industry. You will appreciate their transparency and promptness. The result will be a fully-functioning gate that keeps your property and your family safe, and that won't be needing new repairs anytime soon.
Repair Your Gate Today
Save time and money in the long term by having your gate repaired by a professional gate repair company. If you want a quick an effective service, we are the right choice for you.
Please contact us to get a quote.
But wait, there's more! We also offer:
Elite Gate Opener
Gate Motor Repair
Wrought Iron Gates
Linear Gate Intercoms